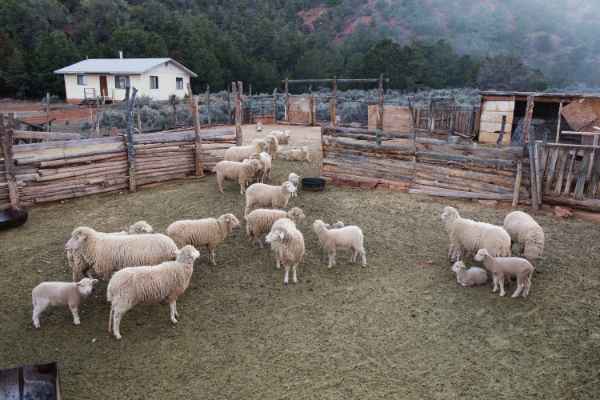 By Rapheal Begay
As Diné, we embody a holistic relationship with dibé (sheep), kéyah (land), and hooghan (home). To illustrate, my family homesite in Hunter's Point, Arizona, happens to be our old winter sheep camp and is a space of origin and belonging that continues to provide sustenance, connection, and healing. Concerning the Diné lifecycle, this image alludes to where my mother buried shitséé' (my umbilical cord) within the sheep corral. It is the place I return to for direction, inspiration, and strength.
With rolling red hills, fields of sage, and open blue skies, I grew up learning about the significance of herding, shearing, and the butchering of sheep as a means of survival and gathering family. After my grandparents' passing and the loss of our family flock, the memories of my relatives operate as my foundation and inform the ways in which I relate to shik'éí dóó shidine'é (my family and my people).
To this day, I continue to hear stories of my grandparents' reciprocal bond with the natural environment. My grandfather, whom I'm named after, created my grandmother's loom and weaving tools from wood found in our backyard. While sheepherding, he would also gather dye plants for wool preparation and medicinal plants for ceremonial use. Within the home, my mother and her siblings would assist with the carding and spinning of wool as my grandmother wove her thoughts, prayers, and songs into the designs of her art.
Since its inception, the use and value of Diné textiles have been transformed by the community, traders, and the art market. However, the one thing that remains consistent and universal is the Diné connection to sheep, the land, and our home. As a well-known expression, "sheep is life" reminds us that dibé are natural caretakers of the Earth, and they also provide stability within the homestead. Like a flock of sheep, we as people are natural stewards of our surroundings and the stories we hold and tell. We as storytellers, weavers, and artists embody the teaching of hózhó (to be in balance and harmony with our surroundings), and just like the land, we will continue to change, adapt, and persevere.
Rapheal Begay is a visual storyteller based in the Navajo Nation. His work activates cultural landscape photography and oral storytelling traditions to document and celebrate the Diné way of life. His research and practice include curatorial collaboration and community organizing informed by visual sovereignty and land-based knowledge.